Mar 26, 2021
Taming the hybrid work chimera: Tips from Slack, WordPress, & Salesforce chiefs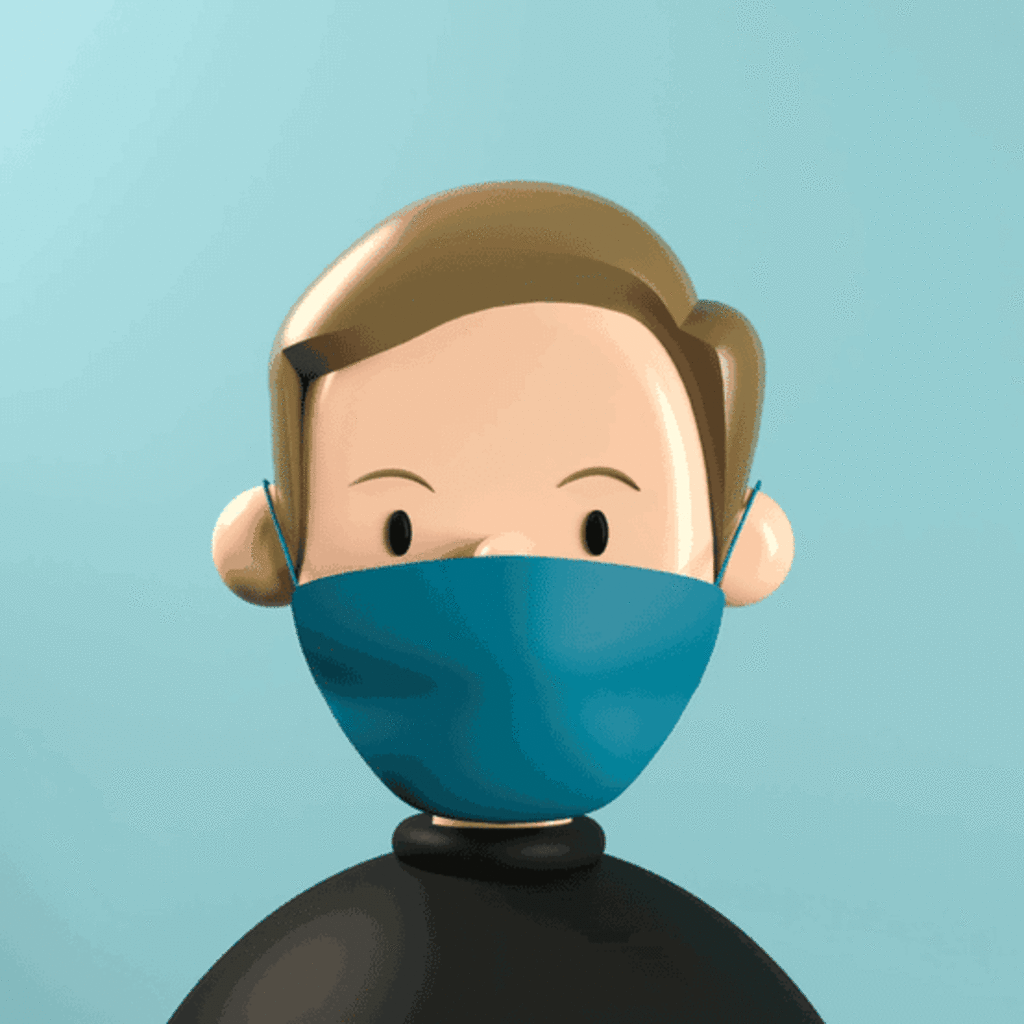 "I cannot f*cking do eight hours of zoom calls per day for the rest of my life" Slack CEO Stewart Butterfield said, to what I would imagine would have been thunderous applause if the thousands of listeners weren't muted in the audience on Clubhouse. This week on my show PressClub I hosted some top employers and hybrid work experts to discuss how IRL and remote collaboration will collide as we start to return to offices.
The consensus: We'll be going back to in-person co-working sooner than expected, but employers will have to compete for the most inclusive hybrid work culture in order to attract talent.
We were fortunate to be joined by:
WordPress/Automattic CEO Matt Mullenweg

PagerDuty CEO Jenn Tejada

SalesForce COO Bret Taylor

NYT's Zeynep Tufekci

Raise CEO Justin Bedecarre

Initialized partner Kim-Mai Cutler

And surprise guest: Slack CEO Stewart Butterfield
Here are the three biggest takeaways from our chat, plus some illustrative stats and some news about Slack going hard into the audio space. Get the podcast when it's ready by subscribing at Constine.club/listen and bid on the NFT portrait of Mullenweg above.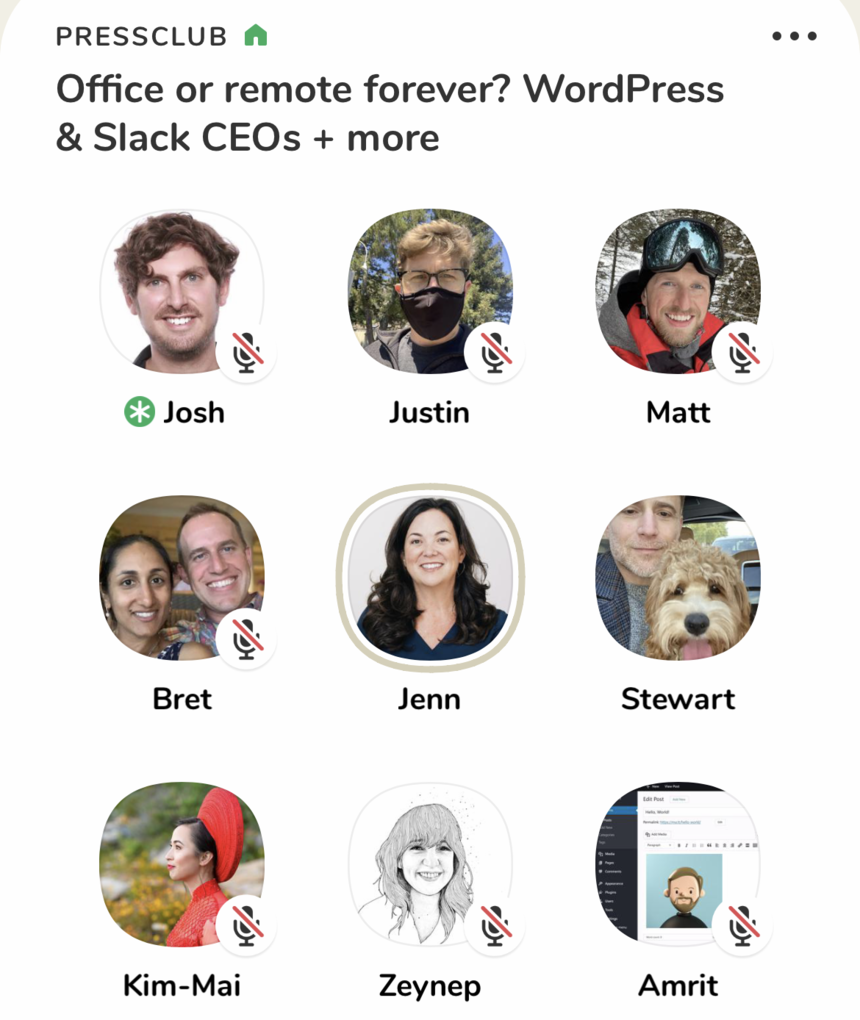 Distributed employees are not second-class citizens
Even calling them "remote" starts to signal that they're less core to the team. Office traditions, collaboration sessions, and HR policies must be rebuilt to put them on an even playing field. Otherwise, employers will lose their teammates that fled HQ cities and fail to leverage the suddenly-expanded global talent pool.
Similar to compensation, expect the market to define what's standard and most companies to conform — except a few outliers propped up by their brands. Get ready for a future where teams may spend 9 months per year apart executing, but the other 3 months swapping desks at HQ or going on retreats together to inspire spontaneous ideation.
"Offices will look more like places to meet and convene rather than everyone sitting next to each other and looking at their laptops all day" Mullenweg predicted. "On a per square foot basis, by far the biggest use [of office space] is factory farm battery housing for people to sit at a desk by themselves and use a laptop and not talk to anyone" Butterfield says. "And I think that's the lowest value use."
"You can have David Solomon at Goldman Sachs say everyone's instantly back in the office . . . And you can have Jack say 'no Twitter employee's ever going to have to come to an office again if they don't want to'. But what's going to determine that is what people actually end up wanting" Butterfield insisted.
Asynchronous documentation will eat meetings
Useless meetings kill companies — especially companies spread across continents and stuck on Zoom. The rise of hybrid work will require a stern shift towards asynchronous communication and rigorous documentation. But we could see huge productivity gains by writing out our hypotheses and reasoning, reading and giving feedback ahead of time, and saving meetings for final discussions and decision-making.
Previously, executives spent far more time worrying about real estate and office layouts than their culture of time management and the quality of their toolset. But to keep people productive and collaborative despite swifter burnout and fewer spontaneous exchanges between meetings, managers must establish that nothing that matters remains ephemeral and undocumented.
"If you're like me and you have two options, and Option A is to carefully articulate your thoughts in a written format and edit it well so it's concise and intelligible to everyone, and then patiently read through everyone else's written feedback, blah, blah, blah, blah, blah. And Option B is let's just have a meeting for 30 minutes, then it's like eating candy. You know you shouldn't do it. It's not good for you. But we're human beings, and we routinely do stuff that's bad for us, so we'll hop into a 30-minute meeting" Butterfield explained. "The only solution to that is to make it sufficiently easier, in a way that's like using a ride-hailing service is easier than taking a cab."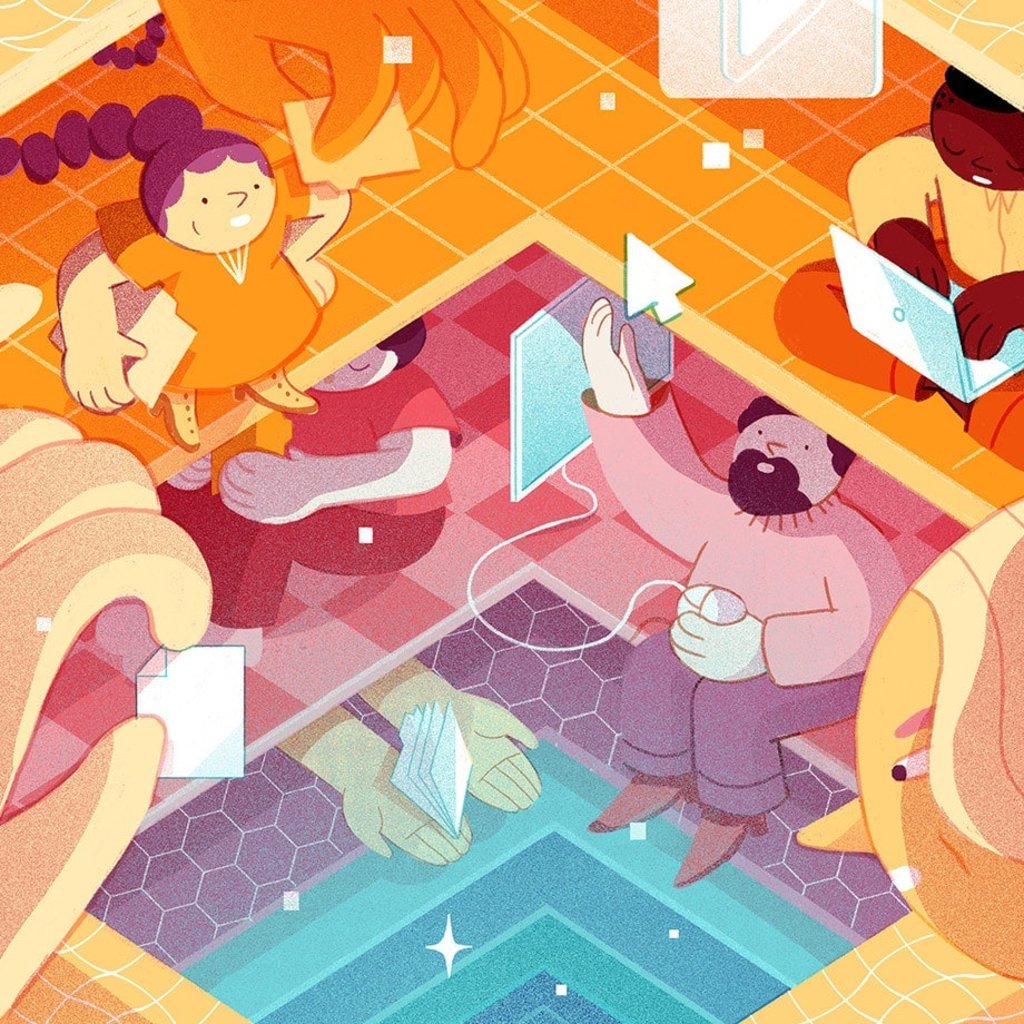 Offices will open soon, so employers need policies and experiments now
Vaccines are rolling out fast. Companies need to establish sensible and transparent policies based on employee surveys now or risk losing talent to those better prepared. Employers should find out what percentage of teammates want to return to the office for how many days per week. And they can't all show up Tuesday to Thursday and then take a five-day weekend. Teams will need scheduling tools to manage who's at what desk when. Otherwise, they'll end up overpaying for unnecessary space, or creating in-office traffic jams.
Taylor recommended Salesforce's V2MOMS strategy, aka thinking through a company's "vision, values, methods, obstacles, and measures". But surveys will only tell you the fleeting opinions of burned-out work-from-homers, and miss opportunities for more radical change. Employers should set up experiments with different cohorts in parallel to see what arrangements drive efficiency and satisfaction. Given some employees have already moved away from HQ, there's no going all the way back.
Tejada says her employees are "desperate to get together . . . But I feel like that's a little like when you look forward to seeing your family over Thanksgiving. You're so excited, but after a couple of days of it, the novelty may wear off. I don't think we're really going to know how this levels out until we start trying it."
"As the vaccination rollout goes so well, particularly in the United States, I think if companies don't get ahead of this and start putting the software in place, putting these programs in place, they could end up in a really awkward position three or four months from now" said Taylor.
Return to office stats and policies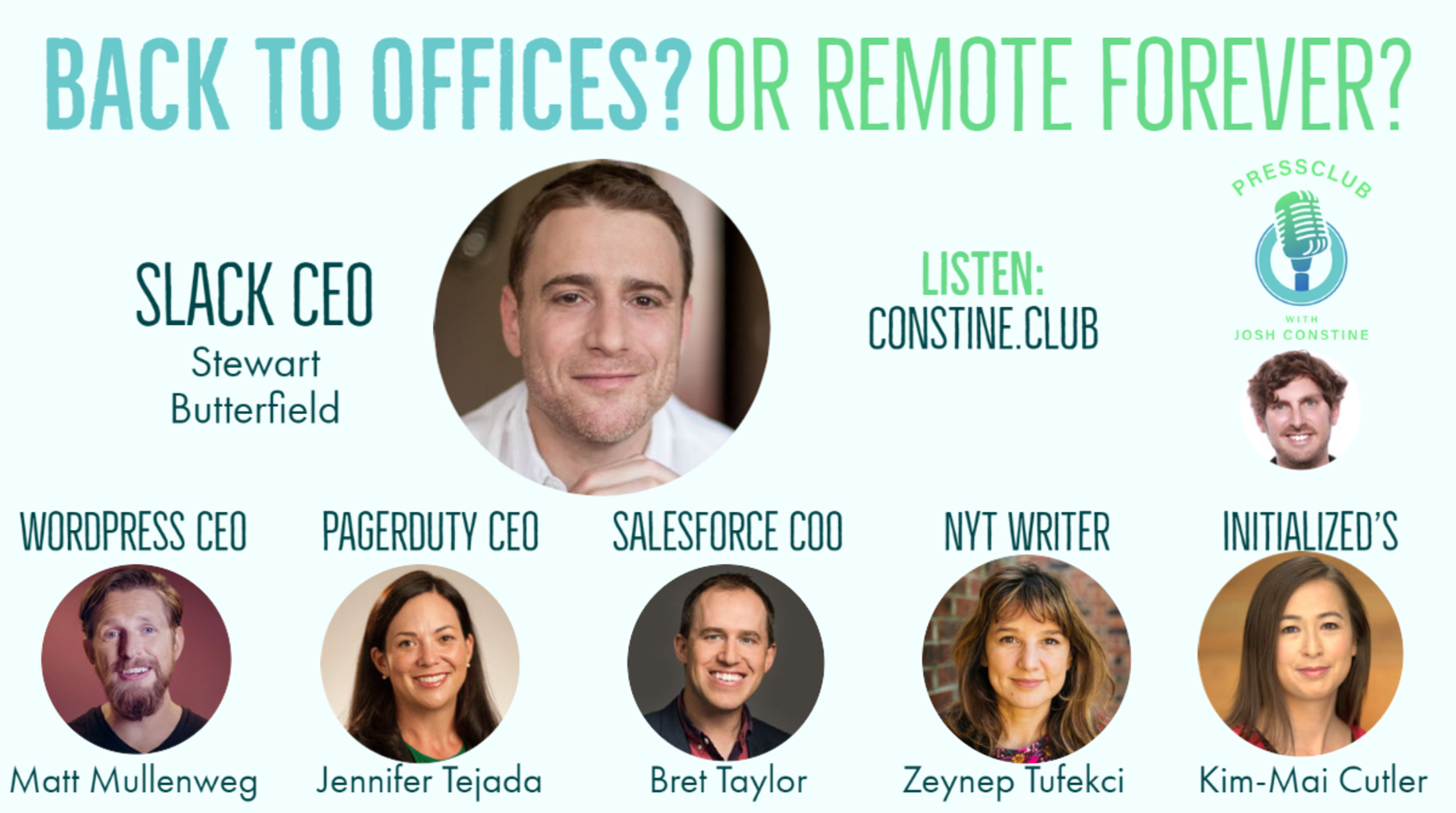 Of Salesforce's 60K employees, in June 2020 only 23% wanted to return to the office. A recent survey saw that figure jump to 72% that wanted only two or three days per week in the office. Between 80% and 90% want to be distributed at least two days per week.

Salesforce's "Gen Z employees were twice as likely to want to be fully office-based than the baby boomers and the Gen X employees" said Taylor.

"Almost 25% more people are reporting that there's a risk of them feeling burnt out" said Taylor, despite them being as productive as ever.

"We're actively encouraging all of our employees to get vaccinated" Taylor noted. "And where we can, actually helping our employees figure out where they can get vaccinated, but we won't be requiring it to go back to the office."

It might not be legal to actually ask employees if they're vaccinated, so Tufekci suggested "One thing you could ask people is if they're immunocompromised or some issue prevents them from getting vaccinated and they maybe they need extra precautions where they work in terms of ventilation or masks — you can mandate masks for interacting with them. So that's the way to get around the HIIPA problem."
Bonus News: Slackhouse? Slack audio messages, audio rooms, & Stories are coming
Amidst this heady discussion about hybrid work, I did not expect Butterfield to suddenly reveal some upcoming features for Slack. But I guess that's the magic of PressClub on Clubhouse — the phone call-esque nature makes people more forthcoming.
To that end, and because creating with voice is so natural and un-distracting, Butterfield shared that Slack is working on asynchronous audio messages and synchronous audio chat rooms:
Matt Mullenweg: My number one feature request for Slack would be asynchronous audio messages because text is so reductive . . .

Stewart Butterfield: I will get you in the beta. 

Josh Constine: That's newsy. We got some asynchronous Slack audio messages on the way?

Stewart Butterfield: Yep

[Clubhouse CEO] Paul Davison: So what about synchronous audio guys?

Josh Constine: Quiet, Paul [laughter]

Stewart Butterfield: Yeah, I've always believed the 'good artists copy, great artists steal' thing, so we're just building Clubhouse into Slack, essentially. Like that idea that you can drop in, the conversation's happening whether you're there or not, you can enter and leave when you want, as opposed to a call that starts and stops is an amazing model for encouraging that spontaneity and that serendipity and conversations that only need to be three minutes, but the only option for you to schedule them is 30 minutes. So look out for Clubhouse built into Slack. 
Slack's CEO also chimed in on the recent controversy about its new inter-company Slack Connect DMs initially allowing 'friend' requests to include text, which was flagged as an abuse vector before launch, still included at launch, and then quickly stripped out in response to backlash:
"First of all, unforced error on our part . . . not to minimize the seriousness of online harassment, but that's a relatively easy change for us to make and honestly, I don't think it would have been a significant vector for abuse, ultimately. But better safe than sorry."
Butterfield also confirmed that Slack's version of Snapchat Stories is on the way, following LinkedIn, YouTube, and seemingly everyone but Microsoft Excel:
Stewart Butterfield: "I said good artists copy, great artists steal. In addition to just the audio, I think the Story format from Snapchat or Instagram is really powerful. And for people to be able to send quick messages back and forth across organizational boundaries will increasingly just push people towards that mode of communication.

Josh Constine: Wait, so is Slack Stories also in beta? 

Stewart Butterfield: Yeah. 
Butterfield, apparently the world's greatest artist.
Auctioning our NFT portrait of WordPress' Matt Mullenweg
Speaking of art, last week we raised $14K for GiveDirectly's COVID Poverty Relief fund by auctioning a fnnch portrait of Mark Zuckerberg with Spotify & Shopify's CEOs. Much love to collector Amir, aka @MondoIR for his winning bid of 38.88 ETH.
This week I'm collaborating with virtuoso 3D animator Amrit P Singh to auction this NFT animated GIF and physical print portrait of Matt Mullenweg inside his creation WordPress, and removing his COVID-19 mask to commemorate the show's discussion of returning to offices. Current bid is Mike Gee's 1.47 ETH, and I'm hosting an auction-ending party on Clubhouse at 6:45pm pt where I'll be interviewing Amrit. We're giving 20% to Live In Peace's COVID rent relief fund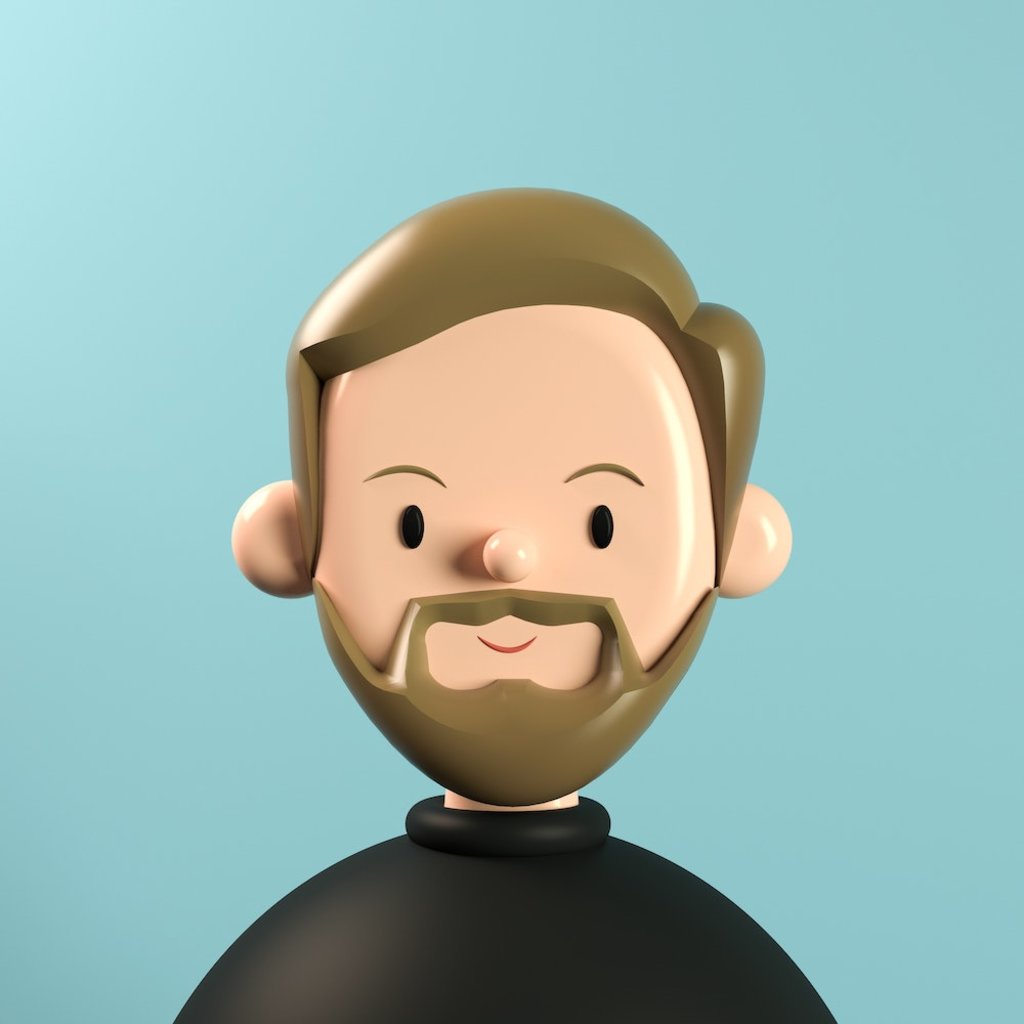 Otherwise, thanks a ton for listening and/or reading. Your valuable time means so much to me. Subscribe to the PressClub podcast for our past episodes with Mark Zuckerberg, Stratechery's Ben Thompson, and the recording of this show!